Ghanaian dancehall star Stonebwoy has said he was never arrested by the police after pulling a gun on live stage in the middle of a free-for-all brawl that greeted his announcement as the Reggae Dancehall Artiste of the Year at the Vodofone Ghana Music Awards (VGMAs) early Sunday.

"I WAS NEVER arrested whatsoever as some media reports have it", Stonebwoy tweeted, adding: "Thanks to the Counter-terrorism Commander and his team" for ensuring his safety and protection.

View image on Twitter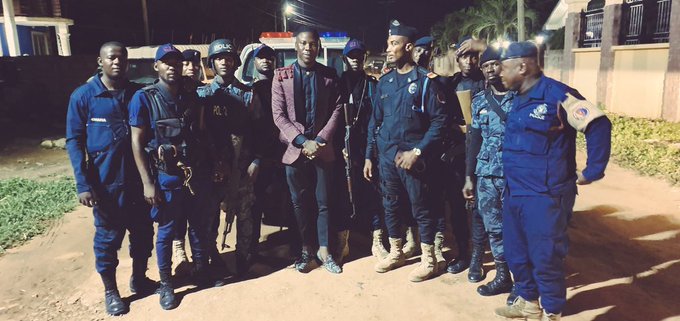 Kindly help Me Thank The Ghana Police Force..For Keeping Situations Calmer And At All Cost ENSURED My Safety Up Until I Entered My Gates.
I WAS NEVER Arrested Whatsoever As Some Media Reporters Have It!!
Thanks to The Counter-terrorism Commander And His Team..15.3K10:34 PM – May 18, 20194,389 people are talking about thisTwitter Ads info and privacy
Thing got messy at the VGMAs after Shatta Wale – Stonebwoy's archrival – and his fans approached the podium to, ostensibly congratulate Stonebwoy, but events turned chaotic resulting in a lot of pushing and shoving – a situation that prompted Stonebwoy to pull out his pistol.
The security officers at the event pepper-sprayed the stage in an attempt to prevent a full-blown fight.
The panic-stricken audience had to run out of the auditorium with laboured breath due to the pepper spray.
The show continued after a long break.

Thanks to Ghana And Bhimnation We Won The Best Collaboration with KpoKee and Reggae/Dancehall Artiste of The Year For The 5th Time.. with Hardwork and Pure Heart and dedication..14.8K10:26 PM – May 18, 2019 · Accra, GhanaTwitter Ads info and privacy3,953 people are talking about this
View image on Twitter