The family of Fella Makafui is said to be very angry with Sister Deborah over their recent saga.
A social media user by name Aba The Great is claiming with a WhatsApp Screenshot chat that the family is said to be tired of the happenings between Fella and Deborah Vanessa especially after she married Medikal.
According to the message, Fella Makafui, though pretending to be a happy woman in the public eye, keeps crying indoors.
The message also says Fella is pregnant and the family wants her to enjoy absolute peace of mind in her nine-month journey.
It added that if Deborah Vanessa referring to Medikal as "sweet ex" and going ahead to compose a song with that was uncalled for.
This is coming after Deborah Vanessa wished Medikal a happy birthday and referred to him as "sweet ex".
This got many people including Fella Makafui herself commenting on the development. Deborah also responded to Fella in a new video she released saying she does not want anything doing with Medikal, and that she only wished him a happy birthday.
Medikal, the man in the center of the controversy, responded to the development asking Deborah Vanessa to shut up.
He supported his wife Fella Makafui, and said Deborah should call him Mr. Frimpong because he is a married man, and not "sweet ex".
See screenshot of the WhatsApp Conversation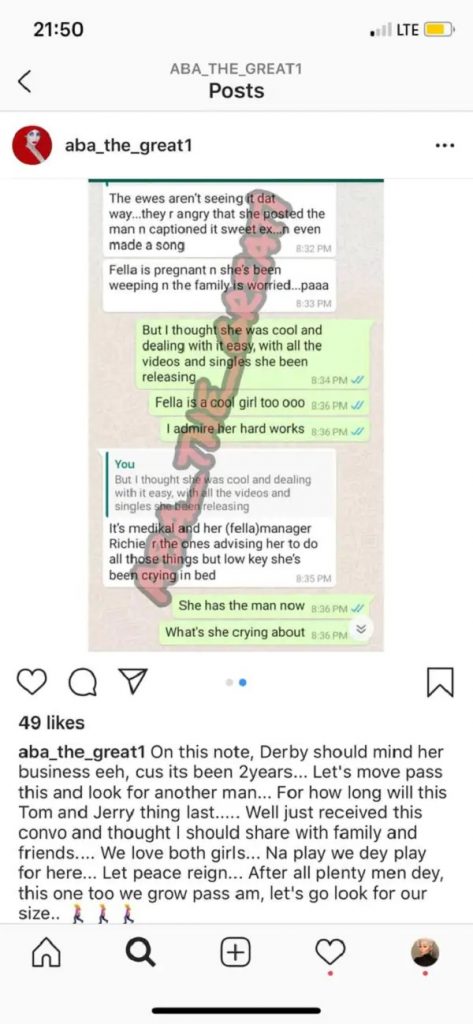 Source: YEN