Stonebwoy's Buy Bhim Website not working
Our attention has been drawn to customers inability to access the official website of the Bhim Shop to patronize Stonebwoy's Merch.
Stonebwoy on Sunday, Feb. 23, launched his Bhim Shop in Ashaiman where he hails from. The shop according to him is strategically located close to where his annual 'Ashaiman to the world' is held.
However, customers and fans of the BhimNation President have brought up their feedback about their inability to access the shop's website.
People are therefore raising questions as to why the website is being advertised but is currently not working..
Stonebwoy's BHIM Shop is located opposite the Engen Filling Station, same building of the Lena Pharmacy in Ashaiman where fans can get the opportunity to purchase his Merchandize.
One Social Media user, Kumi Kasa has brought our attention to the spelling mistake on the sign post for the Bhim Shop. The sign post says "www.buyhim.com" instead of "www.buybhim.com".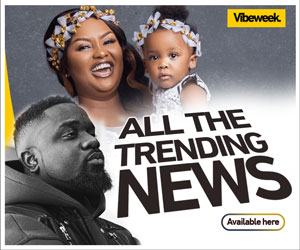 Therefore, vibeweek.com is calling for the attention of Stonebwoy to make those corrections as soon as possible to help with the brand marketing he has began.