How actress 'stormed' the premiere of movie Aloe Vera in luxury dress (videos)
With her short black hair extension and stunning yellow dress clinging to her gorgeous body, Nana Ama McBrown stole the show at the premiering of Aloe Vera, a movie by award-winning Ghanaian film director Peter Sedufia.
On March 6, 2020, fans of Nana Ama McBrown could not resist bowing down to her flawless looks as she made a grand appearance at the Silverbird Cinemas in the West Hills Mall in Accra for the premiering of the new film.
The award-winning actress now TV presenter reigned like a 'goddess' in a yellow V-shaped straight dress with bright glitters on the left side.
The mother of one accessorised her apparel for the night with gold bangles, glitter-encrusted earrings and a gorgeous black and gold purse with glitters.
Fans of the movie goddess could be heard cheering as she gave room for no doubt that she made an appearance to slay at the premiering of Aloe Vera. The new movie is about love amidst a fierce divide among a once peaceful village.
This divide leads to the creation of a border to ensure nothing crosses. Those who think the chicken comes first stay on one side; blue, and those in favour of the egg, stay on the other side; yellow.
With time, two young folks, Aloewin and Veralin fell in love amid rising tensions but are confined. They cannot express their love beyond their territory but in spite of the restrictions, the two are determined to find a way to make their love an exception to the rule.
Aloewin and Veralin's quest to have a physical connection become intense, they manage to find place in the greens to meet which is the place their border ends.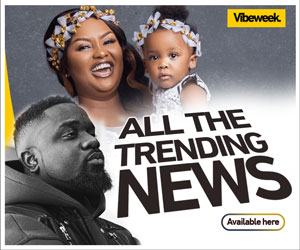 Aloe Vera, a love story of two youngsters caught up in a web of crisis features actors such as Kafui Danku, Kofi Adjorlolo, Beverly Afaglo, Ken Fiati, Nana Ama McBrown, Adjetey Anang, Salma Mumin, among others.